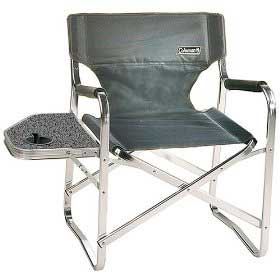 Campers today no longer have to settle for dragging a log to the campfire when they're looking for somewhere to sit. Today's modern campers instead bring their own lightweight and durable camping chairs. Camping chairs have come a long way. Today's modern versions are lightweight, water resistant and, most importantly, collapsible. This last feature makes them extremely easy to pack, a necessity for serious campers.
A good sturdy chair for camping is a must for every outdoors adventure. Fortunately, with the many styles of chairs available, it is easy for campers to find one for every purpose. The most important factors to consider when choosing a chair for a camping trip are weight and storage. Campers want chairs that lightweight. They also want them to fold easily, to make storage a simple process.
Remember, campers and hikers carry some heavy equipment on their outdoor adventures. The lighter the camping chair, then, the better. Manufacturers today have perfected the art of creating lightweight camping chairs by using steel frames that support water-resistant fabrics. This is a vast improvement over the days when camp chairs came with heavy wood frames and thick canvas fabric.
The most common camping chair today is the foldable arm chair, a steel-framed chair with a poly-fabric seat, back and arm rest. This chair's accordion base folds into itself and is easily stored in a matching bag with shoulder strap. These chairs come with several extra features. Campers will find versions of this chair that sport cup holders, sun shades and foot rests. These camping chairs are also popular with families. It's common to see them on the sidelines of children's outdoor sporting events.
This armchair is available in a wide variety of colors and fabrics. Many even boast the logos of major sports teams. Other versions of camp chairs include the famous director's chair style, either with a wood or steel frame. You can find director's chairs with attached side arms that can be used as tables for holding drinks, food or other camping equipment. Both regular arm chairs and director's chairs are available with steel-framed rocking bases.
Consumers can also find collapsible camping chairs in recliner styles. The recliner style has a higher back that folds backward to allow for an almost vertical position. The reclining camping chair also features a foot rest that is attached to the steel frame. This rest adjusts to create the prefect reclining angle. Next time you head off on a long camping trip, remember to bring along the collapsible camping chairs. It's a far more comfortable sit than that old log.